The iconic and beloved beagle, Snoopy, has made a grand entrance in Metro Manila, capturing hearts and sparking joy among fans of all ages. In a spectacular display of whimsy and nostalgia, SM Megamall, in partnership with Peanuts Worldwide, has unveiled the largest inflatable structure in the Philippines to date. This remarkable exhibit, which commenced on November 17, 2023, and is set to run until the end of 2024, offers an immersive, year-long Mega Adventure featuring the cherished Peanuts gang.
Snoopy Exhibit in Megamall
As visitors approach the SM Megamall Fashion Hall's rooftop, they're greeted by the sight of a 50-foot gigantic Snoopy inflatable, a sight that is not only endearing but also perfect for capturing memorable moments. This larger-than-life installation is designed to warm the hearts of both the young and the young-at-heart, serving as a beacon of childhood memories and timeless charm.
The adventure continues inside the mall where the Snoopy Mega Adventure Tunnel, located at the Event Center, Mega A, awaits eager participants. This tunnel invites shoppers to embark on an extraordinary 360-degree immersive journey through the four seasons, accompanied by Snoopy and friends. The multimedia display is a kaleidoscope of colors, with cool tones representing winter, bright pastels for spring, vivid shades for summer, and earthy tones for fall, all inspired by Snoopy's Comic Strips.
How to View Snoopy in Megamall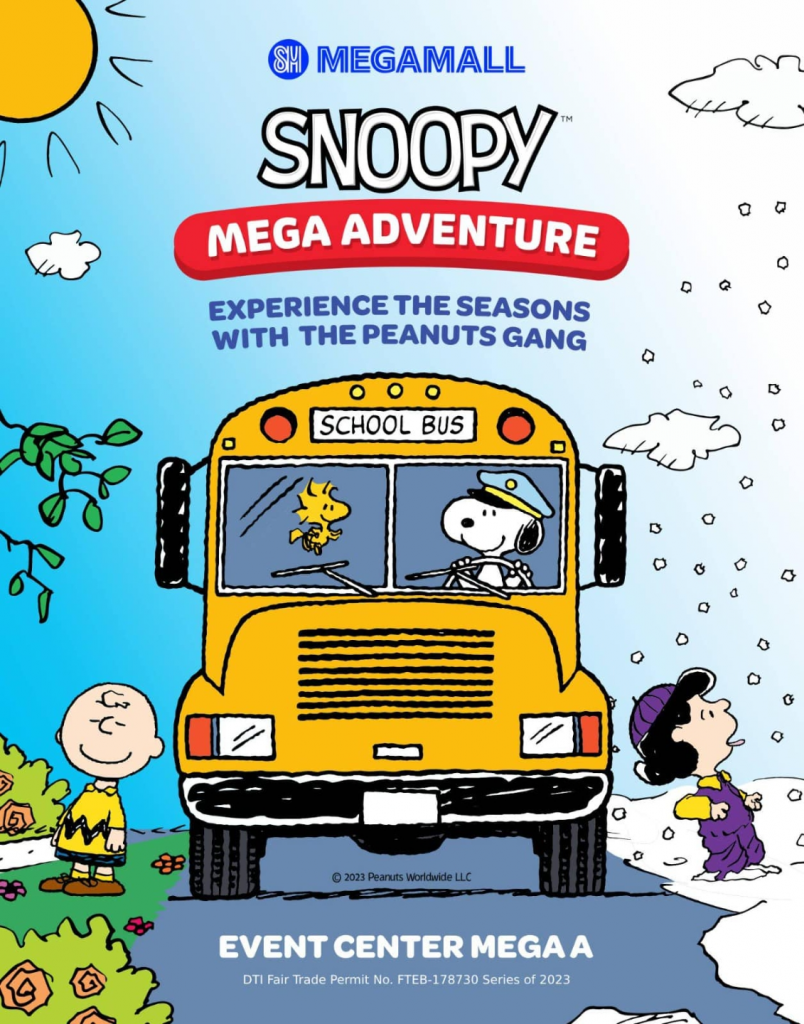 To gain access to this enchanting experience, patrons can present any Php 1,000 single receipt purchase from SM Megamall, SM Center Shaw, or SM Center Pasig at the exhibit entrance, which entitles them to two passes. These receipts must be dated from November 17 to January 6, 2024, ensuring that the holiday season is filled with Peanuts-themed fun.
But the excitement doesn't stop there. At the end of the exhibit, fans have the opportunity to take a piece of the magic home with them, thanks to a range of Snoopy collectibles and merchandise available from the partner store MINISO. These items are sure to become treasured keepsakes for those wanting to hold onto the magic of their Mega Adventure.
Bring Your Dogs as Well
Moreover, fur-parents and their beloved pets are in for a treat as the mall's Paw Park, located at the 5th Level Mega Fashion Hall, undergoes a Snoopy revamp starting December 2023. This initiative further cements Snoopy's presence and appeal, extending the experience to the furry members of the family.
Snoopy's enduring popularity since his debut in the 1950s in the Peanuts comic strip by Charles M. Schulz is a testament to the character's ability to delight and inspire across generations. The SM Megamall's initiative to bring this exhibit to life is a celebration of that legacy, inviting everyone to partake in the joy and adventure that Snoopy represents.
For those eager to stay updated on the latest developments and surprises that the exhibit has in store, following @smmegamall on social media platforms like Facebook, Instagram, and TikTok is the way to go. With a year filled with Snoopy-themed adventures, SM Megamall ensures that the fun and excitement will continue to unfold, promising an unforgettable experience for all who visit.